We believe that young people around the world have the energy and the enterprise to achieve success in many fields, including business. Our Partnership in Enterprise project brings together young entrepreneurs from different countries and cultures to create new, thriving businesses.
About Partnership in Enterprise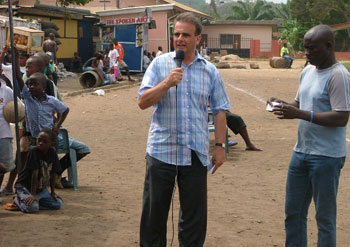 Partnership in Enterprise is the gateway for graduates and career breakers to apply their entrepreneurial skills, zest and spirit to the developing world and work with individuals and collectives eager for assistance to help themselves.
On the 18th
November 2008, Global Entrepreneurship Week lit the flame of Enterprise with a worldwide event which fostered the spark of ingenuity and ambition with 25,000 activities across 77 countries from Bolivia to Bulgaria and Mexico to Mozambique and involving an estimated 5 million people.
Partnership in Enterprise carries this torch by providing assistance to businesses in developing nations. The volunteering period could be 2 weeks, 2 months or 2 years.Â
Make a difference.
5 Responses to "About Partnership in Enterprise"
Christopher Williams from says:
March 1st, 2009 at 3:43 pm An excellent concept. As someone who has worked in business for a number of years, I feel that there is an increasing demand from skilled businesspeople to 'give something back' not only to communities in the UK, but especially to those in developing countries.
Trevor Bailey from says:
March 7th, 2009 at 10:16 am It's a good way for people with money to help other than just sending money.
Fran Hartley from says:
March 13th, 2009 at 6:33 pm My business cannot function if I was out of the country for any length of time volunteering. But knowing I can utilize my business experience and contacts to support and develop a social enterprise in another country from my desk in the UK is really very enticing, and something I will be seriously considering.
Jamie Clarkson from says:
March 17th, 2009 at 5:31 pm I too would find it hard to leave the country for too much time. Even though I have wanted to volunteer abroad for ages now, I just can't find the time with family commitments, but I could manage the role of an ambassador. Sounds great to me. I would love to go to the country involved at certain points to see how all the hard work of all involved has taken effect. What an opportunity.
Amy Currell from says:
June 1st, 2009 at 1:50 pm After graduating with a sports coaching degree from The Univeristy of Wales Institute, I began working as a private tennis coach at grassroots level at Hallamshire Tennis Club. Through Partnership in Enterprise, I was able to travel to Kitwe in Zambia and begin coaching at schools with full commitment from my club and from the LTA. I was given equipment for the children, and the opportunity to create a legacy in Zambia, one of which I regularly check up on! Watching these kids play, and seeing their delight, is something I shall never forget. The most unforgettable experience of my life, and knowing that I was able to change the lives of a few people is my reward.