Partnership in Enterprise - Enterprise Volunteering
About Partnership in Enterprise
We believe that young people around the world have the energy and the enterprise to achieve success in many fields, including business. Our Partnership in Enterprise project brings together young entrepreneurs from different countries and cultures to create new, thriving businesses.
About Partnership in Enterprise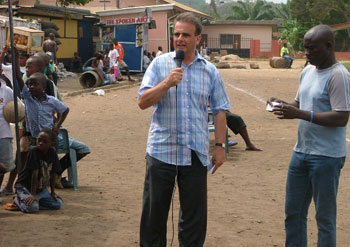 Partnership in Enterprise is the gateway for graduates and career breakers to apply their entrepreneurial skills, zest and spirit to the developing world and work with individuals and collectives eager for assistance to help themselves.
On the 18th
November 2008, Global Entrepreneurship Week lit the flame of Enterprise with a worldwide event which fostered the spark of ingenuity and ambition with 25,000 activities across 77 countries from Bolivia to Bulgaria and Mexico to Mozambique and involving an estimated 5 million people.
Partnership in Enterprise carries this torch by providing assistance to businesses in developing nations. The volunteering period could be 2 weeks, 2 months or 2 years. 
Make a difference.
5 Responses to "About Partnership in Enterprise"
Leave a Reply
Dr. Peter Slowe
Dr. Peter Slowe is the founder of Partnership in Enterprise. He has a Doctorate in Philosophy in Economic Geography from Oxford University. He is the author of 'Geography & Political Power'. As Chairman of the Labour Finance and Industry Group in 1994-97 he advised Tony Blair and Gordon Brown on Economic Policy. He is currently Vice President. He is the Founder of Projects Abroad, the world's leading commercial Volunteer Service organisation.